Tank-in-out units and systems
The disinfection of water, air, and the interior surface of tanks is essential as these areas are particularly prone to the build up of microbes. AquaNetto offers comprehensive water treatment solutions for a variety of applications in the form of tank-in-out units and systems. AquaNetto's tank-in-out units and systems can be integrated along with other complementary water treatment methods such as filtration, chemicals, ultrasonic, and ozone, and provide an effective disinfection treatment for water, air, and the interior tank surface.
General problems
Water storage units, tanks, cisterns, and bags are prone to accumulation of microorganisms and bio-film. Without continuous disinfection of the water as well as the interior surface of the container recontamination is inevitable.

Tank-IN-OUT units and systems
The tank-in-out units and systems consist of a central UV-C disinfection module that is integrated in a variety of positions in tanks and cisterns.
Tank-in-out units and systems incorporate UV-C lamps that are produced by global market leaders and that offer a wide range of power. AquaNetto's selective modular systems provides unprecedented flexibility and adaptability due to the patented AquaNetto Head-Piece that is able to incorporate complementary processes to UV-C disinfection, as well as integrate products from leading brands in the market.
AquaNetto's tank-in-out units and systems are configured so as to treat both in and out-flowing water. The appropriate modification of AquaNetto units and systems also permits the incorporation of pumps, filters, valves, and reactor tubes in order to guarantee the best possible treatment as required by the client. In addition, these units and systems can a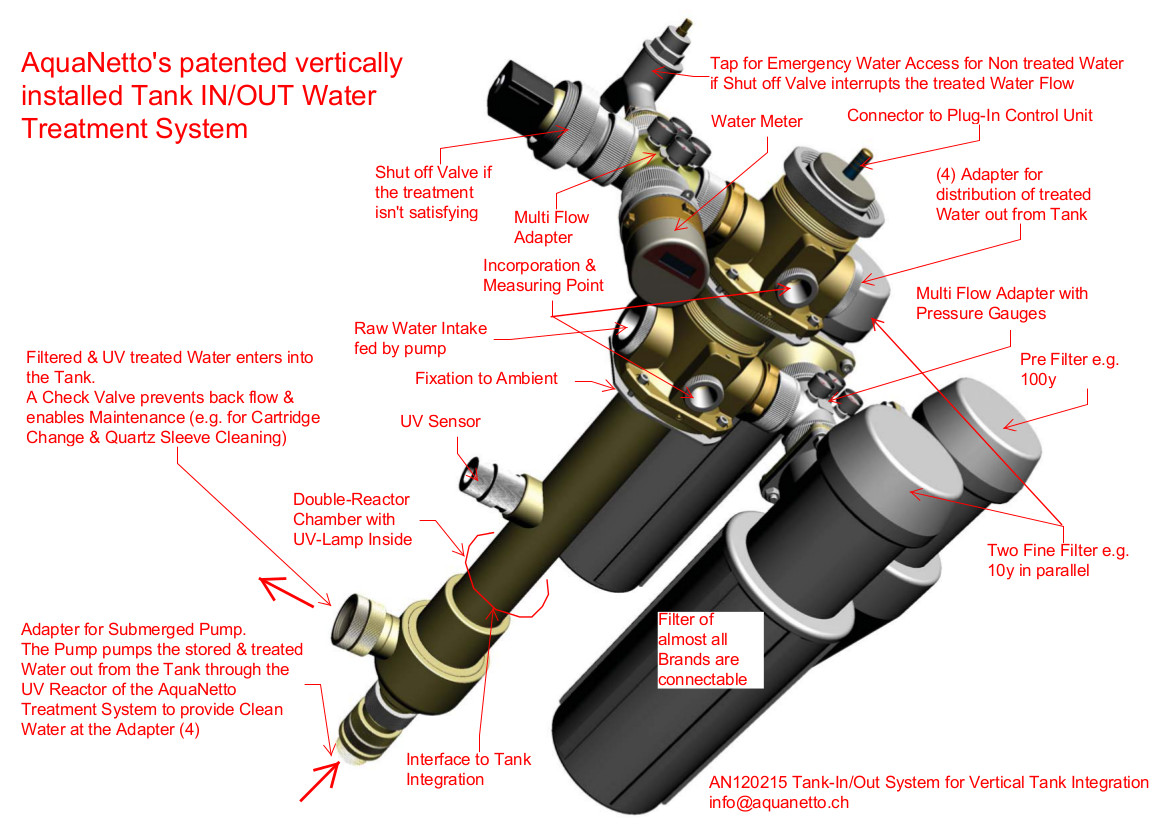 lso contribute to the constant circulation of water within the tank and prevent stagnation.
AquaNetto's tank-in-out units and systems also integrate their electronic ballasts (EVG) in a number of ways depending on the requirements and specifications of the operation. Tank-in units and systems may integrate their EVG directly or externally by means of a cable.
Salient features
A wide range of power – from 16W up to 600W per lamp
The state-of-the-art UV sensors measure the level of water purification, the soundness of the reactor and the lamp, and assure a constant monitoring of the UV-C disinfection process.
Tank-in-out units and systems may be installed in any position horizontally or vertically
Tank-in-out units and systems work in a wide range of ambient temperatures and up to 100% humidity
Depending on the application, a variety of adapters (1" up to 12" /DN50 – DN300) enable an easy connection to the in- and out-let pipes on-site.
AquaNetto tank-in-out units and systems may be configured on-site according to their installation environment (0° to 360° rotatable and fixable) so that the entrance and exit of untreated and treated water is located in any angle to each other
Areas of application
Tanks, wells and cisterns,
Swimming pools
Air washers and cold air storage rooms.
Protection against the build up of microbes and algae
Large-scale industrial and municipal use in water treatment systems and plants
At AquaNetto we develop the appropriate solution for your specific needs. As per the quality of the water or air to be treated we engineer environmentally-friendly and easy to operate solutions that combine various treatment methods to effectively and efficiently purify water and air..
Contact
AquaNetto Group GmbH
Techno-pole 4
CH-3960 Sierre
Switzerland
Phone +41 (0)27 787 20 20
Contact form
AquaNetto Group GmbH Techno-Pole 4, 3960 Sierre Switzerland Phone +41 (0)27 787 20 20 Fax +41 (0)27 787 20 21